| | |
| --- | --- |
| Posted on July 1, 2013 at 4:45 AM | |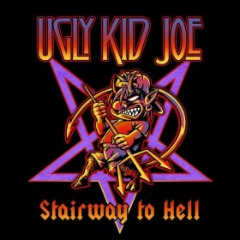 Ugly Kid Joe - Stairway to Hell
Written by Andrew J. Greenyer
Hailing from Isla Vista California, featuring members Whitfield Crane on vocals, guitarists Klaus Eichstadt and Dave Fortman, Cordell Crockett on bass and Mark Davis on drums.
The opening track Devil's Paradise has a punchy driving groove played between Davis, Fortman and Eichstadt supplemented by Crockett's heavy bass presence. The vocals on this track are married perfectly with the style; Crane sounding not too dissimilar to Ozzy. Crane's versatility in vocals really shines throughout this album as the track "You Make Me Sick" offers a grittier, dirtier vocal onslaught.
"No One Survives" sounds very alt metal and you can certainly tell the band's influence from joining alt metal bands during the initial split in 1997, this track features some nice sultry guitar sections and changes up the tempo very well.
The track "I'm Alright" returns you back to the groove and funk metal elements, which has grown to be a firm favourite amongst fans; and by "Love Ain't True!" (featuring Angelo Moore and Dirty Walt of Fishbone) we are thrown into the fray of a dirty, funky groove laden track that will have you cranking the low-end of your speakers and hitting repeat over and over again.
The album's odd but catchy track "Another Beer" has some laidback country type guitar and vocal lines in it, which on an album such as this does nothing but show the bands versatility.
Overall the production quality of this album is fantastic, everything sits in the mix just right, and the drums and bass in particular sound huge. Fans of 1991's "As Ugly As They Wanna Be" and "Menace To Sobriety" (1995) will find some fond favourites within this album, and newcomers will be pleasantly surprised by the catchy hooks and thumping guitar and drum work.
Overall I would give this a 4/5 for album contour, groove, and production quality!
Categories: Album Reviews