| | |
| --- | --- |
| Posted on July 1, 2013 at 4:35 AM | |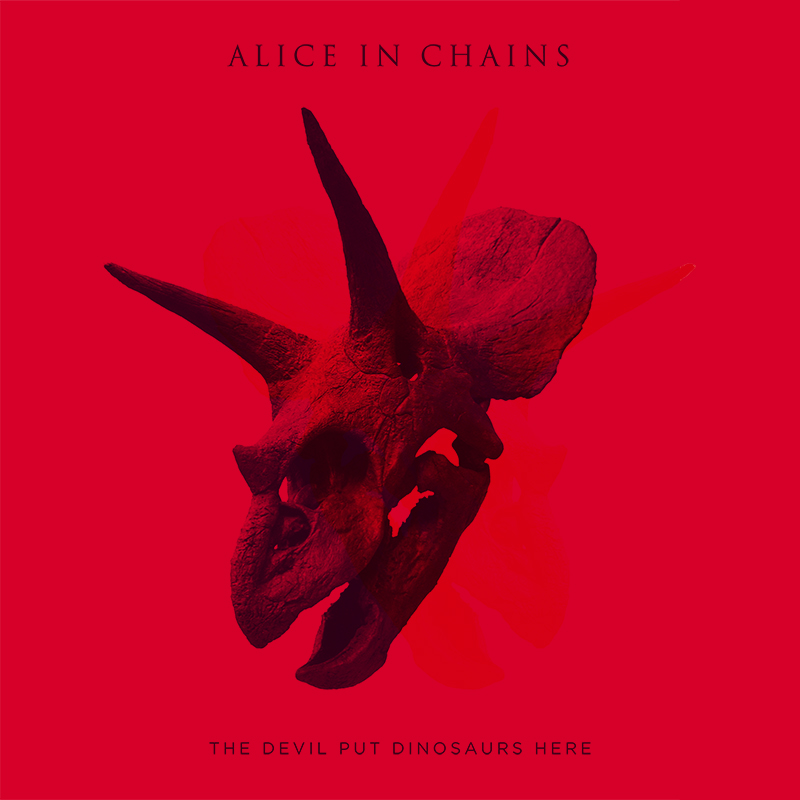 Alice in Chains - The Devil Put Dinosaurs Here
Written by Luke Tolhurst
Alice In Chains return for their fifth full length album with The Devil Put Dinosaurs Here and the second after the passing of iconic vocalist and founding member Layne Staley (replaced with the equally impressive sounding, William Duvall). Following up 2009's very well received Black Gives Way To Blue wasn't going to be an easy task but after years of touring including many headlining festival appearances, they appear to have taken it all in their stride.
The release of their latest effort at the end of May really took me by surprise. I hadn't heard anything about it being recorded but being a big fan of all their past output, I was most excited to have a listen to their first new recorded material in nearly five years. Again the band has enlisted Nick Raskulinecz for production duties and the results shine through, these songs, at first listen, sounding similar to, if not even better than their songs from their last album.
First song and single 'Hollow' is an excellent start to the album and a great re-introduction to the band's current core sound of William Duvall and Cantrell's harmonised vocals and guitar work.
'Pretty Done' and 'Voices' are both very solid songs, the latter sounding very Foo Fighter-ish in the chorus.
Second single 'Stone' is a sludgy and dark rock anthem with some amazing riffage and guitar solos.
Title track 'The Devil Put Dinosaurs Here' is Alice in Chains getting somewhat topical as Duvall sings, "No problem with faith, just fear" and the song, much like many of the others, building to a massive crescendo.
I really enjoyed the epic 'Phantom Limb' and found it to be one of the album standouts. With its chugging main riff (perfect for air guitar!) and epic drumming, it really gets the foot tapping and head nodding uncontrollably. The main guitar solo is undoubtedly one of the many highlights on Dinosaurs. 
Some critics have suggested that at nearly 70 minutes long, the latest record is perhaps a tad overlong and repetitious but I have to say I never once found myself disinterested in the album. It is chock full of memorable riffs and melodies, everything that you would expect from an Alice In Chains album and not a dull moment to be found.
Whether you're a long time Alice In Chains fan or a brand new listener, there is something on this album for everyone to enjoy.
Categories: Album Reviews