| | |
| --- | --- |
| Posted on June 27, 2013 at 8:55 PM | |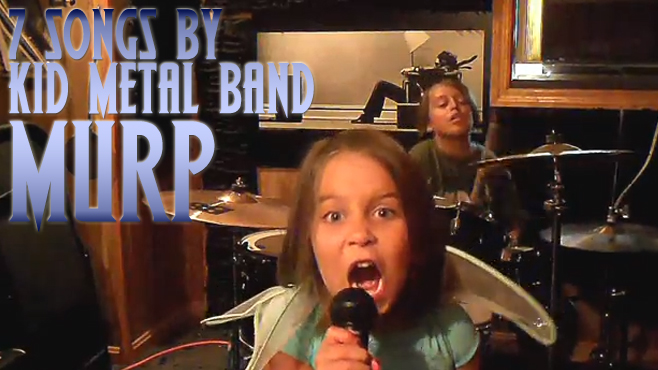 We've known about the kid band Murp for a little while now, but last night (June 25), the entire world got to see the group in action during an audition stage of 'America's Got Talent.'
At first, we didn't really know what the word 'Murp' meant, but luckily, any confusion about the band's moniker has been diffused on Murp's Facebook page: "Murp – Used to imply contentedness. Also a good way to respond to a question without giving an answer."
Now that you know what Murp means, let's talk about the band itself. Formed in 2010, the brother and sister team of Izzy and Aaralyn, respectively, wanted to get on the TV show 'iCarly' so badly that they made a music video to send to Nickelodeon. From then on, Murp have been lighting up the Internet with their cover of Jane's Addiction's 'Mountain Song' and other tunes, along with the original song 'Zombie Skin,' which the duo performed on 'America's Got Talent' for judges Howard Stern, Howie Mandel, Melanie 'Scary Spice' Brown and Heidi Klum.
While Izzy manned the drums, Aaralyn took the mic and blasted out some of the most aggressive screams we've ever heard. 'Zombie Skin' caused Howard Stern and Scary Spice to give Murp the 'X', but after some deliberation, Murp were given the thumbs-up in a 3-to-1 vote, allowing the band to progress to the next stage of 'America's Got Talent.'
Congrats to Murp on their AGT accomplishment! We're rooting for them, as are ton of rockers and metalheads nationwide. Seriously, goth-opera phenom Andrew de Leon was let go early last year, and that very same season of 'America's Got Talent' was won by dogs doing little circus tricks, so despite what the judges eventually decide, Murp still rules.
From: http://loudwire.com/kid-band-murp-bring-the-metal-to-americas-got-talent-with-original-song-zombie-skin/
Check out Murp's debut on 'America's Got Talent' in the video here:
http://www.youtube.com/watch?feature=player_embedded&v=VhQK-6iI7cI
Categories: News