| | |
| --- | --- |
| Posted on June 27, 2013 at 8:50 PM | |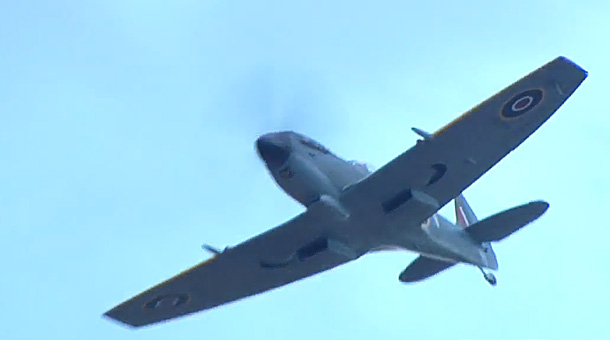 Battle Of Britain Memorial Flight squadron leader amazed by response to Download flypast .
The pilot of the Spitfire that flew over Download to launch Iron Maiden's headline set says he's amazed at the response to his appearance.
Squadron Leader Andrew Millikin passed three times above 90,000 fans at Donington Park on June 14, with Maiden launching into classic track Moonchild as the WWII fighter plane banked up over the main stage.
And although he's used to staging flypasts in the Spitfire Mk16, registration TE311, he says it was a unique experience.
Millikin tells the Horncastle News: "This was something completely different. There's been a lot of interest from fans who attended.
"I'd never have thought that a bunch of metal fans would be interested in RAF craft – but I've been proved wrong.
"It was fantastic to fly over. I get goosebumps every time I see the Spitfire in the air, so i can't imagine what it was like down there."
He admits matching his appearance with the launch of Maiden's set was "nerve-racking," adding: "Traffic at the East Midlands Airport was temporarily grounded to ensure it went without a hitch."
Millkin was asked to appear by singer and pilot Bruce Dickinson, but says arranging the flypast didn't take as long as the pair's phone conversation about their passion for aircraft.
From: http://m.classicrockmagazine.com/news/iron-maiden-spitfire-pilot-it-was-fantastic
Watch it here:
http://www.youtube.com/watch?feature=player_embedded&v=35S2lcNuDeo
Categories: News