| | |
| --- | --- |
| Posted on June 23, 2013 at 5:45 AM | |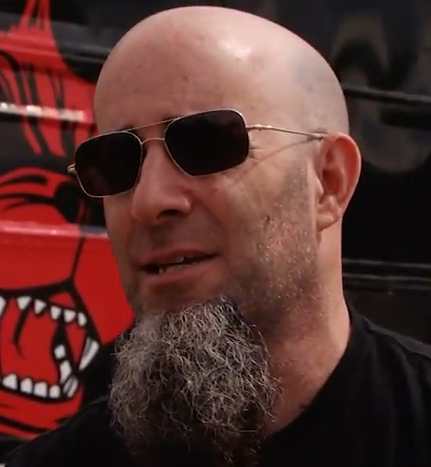 Geeks Of Doom conducted an interview with ANTHRAX guitarist Scott Ian about his recently completed "Speaking Words" U.K. spoken-word tour. A couple of excerpts from the chat follow below.
Geeks Of Doom: What's your assessment of your first show [on the "Speaking Words" tour]?
Scott Ian: I thought they were really receptive. I felt like everything worked, people were laughing in all the right places, and I think people really connected with it, they felt good about it. I could tell right away, even just the dead silence when I'm reading my intro bit, that's when I knew I had them. Because I could feel it, when you're up there you can feel people if you can feel how uncomfortable they are in the beginning and then when I break that tension I feel like, "OK, I got it now." Then I know I've got them and they're willing to follow me down any path I'm going to take them at that point. I thought they were really, really receptive, really got it and were really happy to be there.
Geeks Of Doom: How did you decide which stories you would tell tonight? Like you said, you have the MINISTRY stories and I'm guessing loads of others.
Scott Ian: I just felt like going into the stories about drugs [hilarious stories about tripping on mushrooms and bad experiences with smoking pot] made sense after the opening and I knew I wanted to do the Lemmy story because I just got the illustrations back yesterday and I just wanted to see how that played. So I wanted to do that and then I wasn't sure if I was going to do [Dimebag] Darrell. I thought I was going to tell the Cliff Burton [late METALLICA bassist] story and then I ended up telling a shortened version of that in the [question-and-answer session]. I don't know why I went into the Darrell story, because I really wasn't sure where I was going to go after Lemmy and I just decided on the fly that I would tell that Dime story right then and there.
Geeks of Doom: Whose idea was it to take you on a "Speaking Words" tour of the U.K.?
Scott Ian: The tour was my idea. The initial one show that I did last November was my agent's idea. He booked three shows: one with me, one with Chris Jericho, and one with Duff McKagan. They were all about two weeks apart and each did a talking show and it was his idea to do that series of shows and it went really well for all three of us and I was the one who said after my show, I want to do more, can we do more dates, can we book a tour? And here I am.
Geeks Of Doom: Did you do any other shows in preparation for this? You did the London show…
Scott Ian: And I did two in Australia. Those were great; one had 250 and one had 300 people. So yeah, much bigger than tonight. But there's a lot of other shows on this tour that ticket sales are really good so it's kind of hit-and-miss depending on, I guess, where I'm at.
Geeks Of Doom: Like you said, it took Henry Rollins years to get to where he is at.
Scott Ian: Yeah. I don't have any expectation that I'm going to come out and sell out 400 people a night. It's the first time I've ever done it. I'm not that big enough of a guy in a band. I feel those ticket sales are just based on curiosity. If I was Dave Grohl, I'm sure I could get 500 people to show up to watch me read a book for two hours! But that's Dave, he's in a much bigger band than I am, so I think it's definitely a growing process. I can only hope that people had fun tonight; it seems like they did. If I come back through Oxford another time, word of mouth will have spread and maybe 150 people will show up.
From: http://www.blabbermouth.net/news.aspx?mode=Article&newsitemID=191639
Categories: News