| | |
| --- | --- |
| Posted on June 18, 2013 at 11:00 PM | |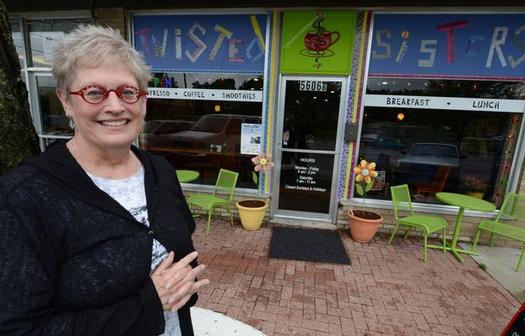 MISSION, KS - Two local business women are entangled with an 80s hair band in a way no one ever expected.
What some call a laughable lawsuit threat might force them to change their identity.
Sandi Russell and her sister, Nancy Hansen, own a modest little coffee shop in Mission, KS. The shop's name comes from their youth in the 1960s.
"My brother always called my sister Nancy the blonde tornado when we were growing up because she just kind of whirls around then she kind of leaves just like a tornado and so we just became twisted sisters," Russell said.
The pastries are twisted. Even the smoothies strike Russell as twisted. But now a band that had its heyday in the 80s is trying to take away their tornadic title.
The nemesis isn't the band's lead singer, but guitarist John Jay French.
The founder of the band known for its rebellious teen anthems is going corporate and claiming trademark infringement.
Customers of the coffee shop are steamed to hear the news.
"Whoever is bringing all of this on is kind of nuts," coffee shop customer Jim Sanders said.
Lawyer Dianne Smith-Misemer calls it trademark bullying.
"A lot of these cases come down to not about the true merits of the case but who has more money and better lawyers and who can push who around," she said.
Part of French's case claims Twisted Sister is a "world famous" brand, like Nike and Levi's and Apple. But that's not an idea that flies for Sanders.
"I've never heard of them," he said.
1940s big band music is more Sanders' kind of music and he's pretty sure Miller, Dorsey, Krupa and the likes wouldn't pull the same routine.
"Glen Miller...he wouldn't be worried about a coffee shop," Sanders said.
"I would love to keep it. I am emotionally attached to the name," Russell said.
The brother who inspired the shop name now graces the wall, taken by a heart attack a year before the place opened. But Russell said she might have to change the name because she can't afford to fight.
"We don't have deep pockets," Russell said.
But Smith-Misemer has another idea.
"They might take the position, 'come and get me,'" she said.
Smith-Misemer explained that, to enforce a claim on his band's name, French's folks will have to come to court in Kansas, which would be a long ride to put the squeeze on a little shop.
From: http://www.fox19.com/story/22473486/local-coffee-shop-owners-entangled-in-lawsuit-with-twisted-sister-member
Categories: News