| | |
| --- | --- |
| Posted on June 18, 2013 at 8:05 PM | |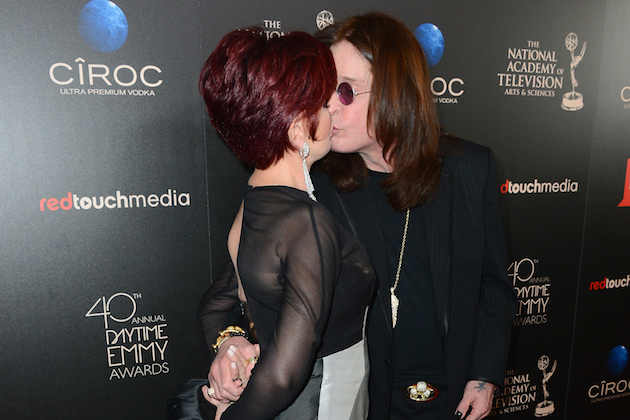 Black Sabbath's '13′ is topping charts worldwide and receiving positive reviews from critics, but Ozzy Osbourne has yet another reason to cherish the moment, as the singer just moved back in with wife Sharon Osbourne following time apart as Ozzy recovered from a drug and alcohol relapse.
On April 15, Ozzy Osbourne unexpectedly posted a confession on his official Facebook page admitting that he had been using drugs and alcohol for the last year-and-a-half, encompassing the entire Black Sabbath reunion timeline. At some point during Ozzy's relapse, Sharon left the family home, reportedly choosing to live in a Los Angeles hotel until Ozzy sobered up.
We actually saw Ozzy and Sharon together in public during Black Sabbath's '13′ celebration event in New York City, but the duo got the attention of the press while walking down the Daytime Emmy Awards' red carpet Sunday night (June 16). The couple seemed genuinely happy together, sharing a passionate embrace and even kissing for the cameras.
In a recent interview with USA Today, Sharon confirmed Ozzy's current sobriety. "He's doing incredibly well. He is. Eighty plus days clean and sober. He's working his program rigidly. It's amazing to see how somebody in just over 80 days can change their life around. You know, miracles happen all the time and he has (gone from) hating himself, from a place of despair, to being a responsible husband and father again and it's amazing to see. I'm very proud of him. He's a great example too for people. He's not the only person that suffers from addiction. Tomorrow's a new day and you start all over again. You just don't give up, it doesn't matter what you have, or your position in life, you still have those demons in you. This problem affects so many people. It doesn't matter what you have. It's the same battle for everyone."
From: http://loudwire.com/ozzy-sharon-osbourne-living-together-black-sabbath-singer-sober/
Categories: News