| | |
| --- | --- |
| Posted on June 18, 2013 at 8:05 PM | |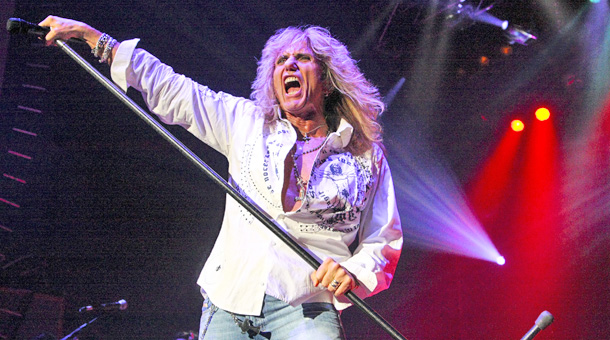 Whitesnake frontman David Coverdale has offered an olive branch to Robert Plant and apologised for "ugly things" said about the Led Zeppelin icon in the past.
The pair have been at loggerheads since Coverdale teamed up with Zep guitarist Jimmy Page for the 1993 Coverdale Page album.
In interviews at the time, Plant expressed some derision at the collaboration, coining the term 'David Cover-version'. Coverdale responded in kind, saying about the singer: "There's certainly no love lost between myself and Robert… I wouldn't send him cat food if he was starving."
Now during an interview set to be broadcast next Wednesday (June 19) on TeamRock Radio's Classic Rock Magazine Show, Coverdale said he wants to put an end to the animosities.
DC told Classic Rock Magazine Show host Nicky Horne: "My last words to Jimmy in London were: 'I'd love to buy Robert a drink.' I said: 'When you speak to him, offer my sincere regrets for any negative things I've ever said, which were mostly defensive.'"
Cov continued: "I hold him [Plant] in the highest esteem as a human being, as an artist, and I really would like to, you know, sit down, buy him a drink, shake hands and say: 'I'm really sorry, you know, can we be friends again?'
"[Out of] my love and respect for Jimmy, I know he'll pass that on to Robert – and Robert might go and tell him to **** himself, who knows, but I don't hold any animosity, just disappointment in myself that I took the bait and ran with some ugly things. Because it's not appropriate for somebody I respect so much."
From: http://www.classicrockmagazine.com/news/coverdale-wants-to-end-plant-feud/
Categories: News